Speed Poker
More hands, more money!
Don't sit and wait your turn…play Speed Hold'em, the poker game which lets you play up to 4 times as many hands in an hour!

What are the advantages of Speed Poker?
NO WAIT
4x AS MANY
HANDS PER HOUR
MORE ACTION
FAST AND FUN
GAME
What is Speed Poker?
Speed Poker is a new type of cash game available now. Speed Poker is an extremely fast-paced game which makes it much more exciting as you'll no longer have to wait between hands. If you fold, you can join another table instantly to play a new hand against new players.
Speed tournaments also available
Just like the Speed Poker cash tables, players can fold using the 'Speed Fold' button whenever they want in Speed Hold'em tournaments. They will be immediately placed at a new table with other players from the tournament.When less than 30 players remain, we will switch to short-handed tables to keep the pace of the game going. If you make it to the final table, the tournament will be played as a standard tournament until the winner is determined.
How do you play Speed Poker?
1. Join a Speed Poker table
To select a table, click on 'Speed Poker' in the left-hand menu and choose a table.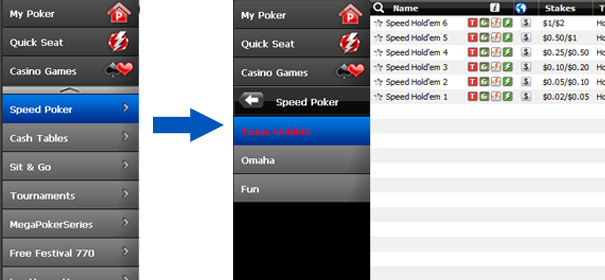 2. Take on different opponents during each hand
In each hand you'll go up against a new group of players. The game is fast but the change in pace won't affect your game.
In fact, regardless of your position in the game, you will always be sat in the same place. When a hand ends, the players around you will disappear and new ones will sit down.
3. "Speed Fold" button

You can fold at any time, you don't have to wait for your turn. Click on 'Speed Fold' and you will be immediately moved to a different table with new players, where you can play a new hand.